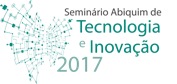 Day 1 – 07/12
Panel 1: Chemical Technology Solutions for the Oil & Gas Industry
The Chemical and Oil and Gas industries have a significant impact on the economy of a country, due to the number of jobs generated and, mainly, the generation of wealth. Moreover, because they are positioned at the base, these industrial segments have influence directly or indirectly in all other downstream sectors. Within an economy that considers industrial development as one of the factors of progress, it is important to discuss how the technological advances of these segments can be important aspects in the recovery of the Brazilian economy.
Moderator: Rafael Pellicciotta (Elekeiroz)
Speakers:
Guilherme da Fonseca (Oxiteno)
Antonio Pedro (Clariant)
Eder Torres (Solvay)
Rodrigo Pio (Petrobras)
Prof. Julio Meneghini (USP)
Panel 2: Challenges of Industrial Biotechnology in Brazil
In addition to the technological challenges, innovation in biotechnology faces other challenges, such as the regulatory framework; Public and private investment; Capacity building focused on innovation and geared to the needs of the bioindustry. In this sense, this panel will bring together representatives from the private sector, government and academia to discuss, in a broad way, the challenges of Industrial Biotechnology in Brazil.
Moderator: Paulo Coutinho (Senai-Cetiqt)
Speakers:
Gabriel Gorescu (Solvay)
Bernardo Silva (ABBI)
Secretário Marcos Vinicius de Souza (MDIC)
Denise Ferreira (CAS)
Giani Valent (Amyris)
Day 2 – 07/13
Panel 3: The Chemical Industry and Industry 4.0
The large-scale application of digitization to industrial production gave rise to the advanced manufacturing concept. Due to the significant impacts of digitization on both the production and the development of products and processes, such changes have been considered as the fourth industrial revolution, giving rise to the term industry 4.0.
Companies that do not adopt digital technologies will find it very difficult to remain competitivet. In this context, this panel aims to bring the discussion of how companies will be impacted by this revolution highlighting the main opportunities and challenges for the chemical sector.
Moderator: Johannes Klingberg (VDI)
Speakers:
Willi Nass (Basf)
Ecolab
Pof. Dr. Willi Meier (Dechema)
Luis Arouche (IBM)
Panel 4: Venture Capital as a Funding Mechanism to foster Innovation
In recent years, several initiatives have been launched aiming to build a new ecosystem of innovation in Brazil. This panel will discuss Venture Capital as a new funding mechanism , bringing to the discussion some cases of successful start-ups related to the chemical sector.
Moderator: Rafael Navarro (Braskem)
Speakers:
Ângela Ximenes (ABVCAP)
Alexandre Alves (INSEED)
Almir Araújo (BASF)
Juliano Andrade (Oxiambiental)
Startup 2
Startup 3